Director and Staff
Aspen Center for Child Development staff has expertise in caring for infants, toddlers, and preschoolers in a group setting.  Depending on the position, staff must fulfill hours, classes, and training to be in compliance with state regulations. Aspen Center for Child Development takes pride in our staff. The teachers are professional, well educated, and trained to work in the Early Childhood Education field. All staff members are trained in infant and child CPR, First Aid, and Universal Precautions. The OUR Center provides staff with continuing training throughout the year.
Staff:
Elizabeth Fannon Sauget, Director
Cynthia Abkes, Substitute Teacher
Marianne Barton, Lead Teacher
Denise Coleman, Substitute Teacher
Beth Cushing, Director Substitute
Marlen Estrella, Infant Teacher
Heather Feavel, Substitute Teacher
Brittany Ferguson, Teacher
Isabel Fogle, Infant Teacher
Lynda Friedrichs, Assistant Teacher
Toni Green, Substitute Teacher
Kristina Kortgaard, Lead Teacher
Kaitlin Lacas, Teacher
Janice Owens, Pre-K Teacher
Alexis Rodriguez Rodriguez, Assistant Teacher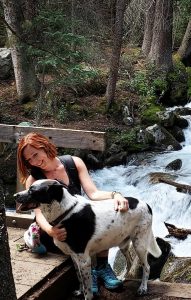 Elizabeth Fannon Sauget
Director of Aspen Center for Child Development
From Elizabeth: "I am thrilled to begin my 23rd year in the field of education as the director of the Aspen Center for Child Development. The mission and values of the OUR Center and Aspen Center resonates deeply with my core beliefs of family forward and working in an asset based way. I look forward to becoming a part of this learning community and building strong relationships with families, children, and teachers and I am eager to share my passions and expertise as lead learner of the school.
When I'm not at school I get to explore and play with my family. We love adventures and can often be found hiking, rock climbing, skiing, mountain biking, or visiting family in St. Louis and Europe. My husband and children are very happy that I'll be working so close to home as we often bike downtown for fun.
I step into the role of director December 16, please feel invited to stop by the office or catch me in the hallway to say hello."
With Joy,
Elizabeth Fannon Sauget
---